Mortgage Marketing Engine

Mortgage Marketing Engine
Surefire: Top Rated Mortgage Marketing Engine
Surefire CRM and Mortgage Marketing Engine helps thousands of mortgage professionals win new business, drive repeat business, and earn the right to referral business. With intuitive, set-it-and-forget-it workflows and award-winning content, mortgage professionals can effortlessly maintain and deepen their connections with borrowers, recruits, members, brokers, and real estate agents all through one powerful platform. 
Mortgage Marketing Engine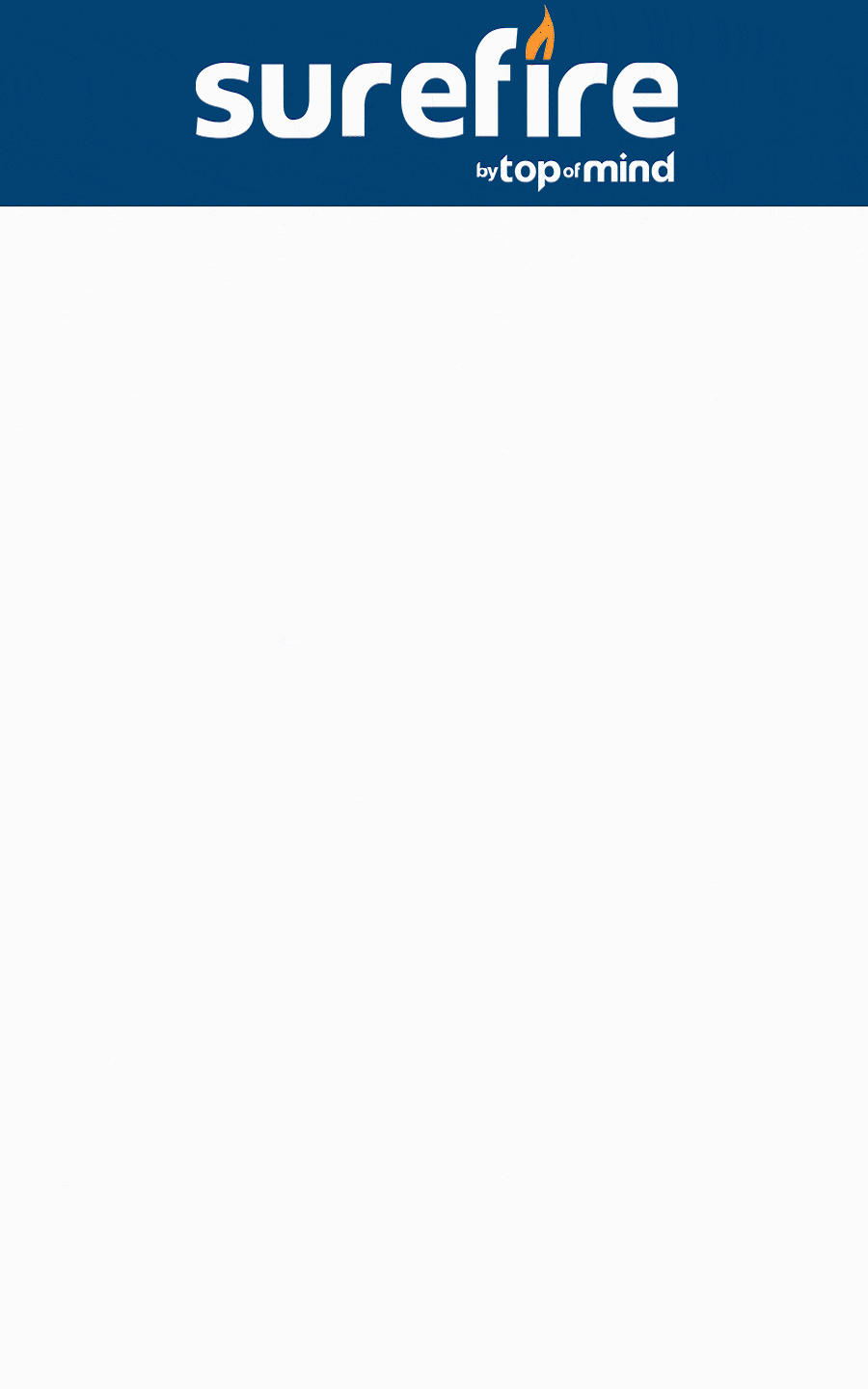 Close More Loans
Surefire CRM and Mortgage Marketing Engine lays the groundwork for automating communications throughout the mortgage process. Surefire users gain access to workflows designed for the mortgage industry on day one so that lenders can focus on what they do best:  closing more loans.
Surefire distributes leads, nurtures them to application, educates and informs through the application and funding process, and provides omni-channel outreach post close to capture repeat business.
Earn Repeat Business
For mortgage professionals, earning lifelong clients means earning greater profits. The key to cultivating lifelong clients is keeping in touch, and with Surefire's milestone tracking, you'll be the first to reach your customers with personalized, relevant content.
The perfect recipe for automation comes out of the box with Surefire's post close Client for Life campaign. Everything from closing gifts to multimedia outreach (including text and video) are automated for years, putting your outreach on autopilot that you can trust.
Get On the Fast Track to Profitability
Our goal is to ensure your CRM is customized not just to your preferences but also your profitability. By cutting down on costly learning curves, our Blueprints for Success help you improve ROI by deriving more value from Surefire sooner and without hiring a six-figure developer to achieve your mission.
Reduce Risk
Starting from scratch with a massive CRM and Marketing Automation project has major risks. They include delayed go-live, ineffective campaigns, unproven content, and expensive A/B testing that sends half the tested leads down the negative path. Eliminate all of this risk with the proven Blueprints for Success from Surefire CRM. You have the full power to edit and change all aspects of the system, but start with a package you know works out of the gate.
Nurture and Convert Prospects
With built-in email, text, phone and video messaging, Surefire's Blueprints for Success creates revenue growth and cost savings by converting more prospects into applicants, more applications into closed loans and more past customers into repeat customers. We know you can't realize these benefits if your software's sitting on the sidelines. Our Blueprints for Success will show you how to quickly turn reluctant team members into enthusiastic adopters of Surefire so you can maximize our system's effectiveness and your ROI.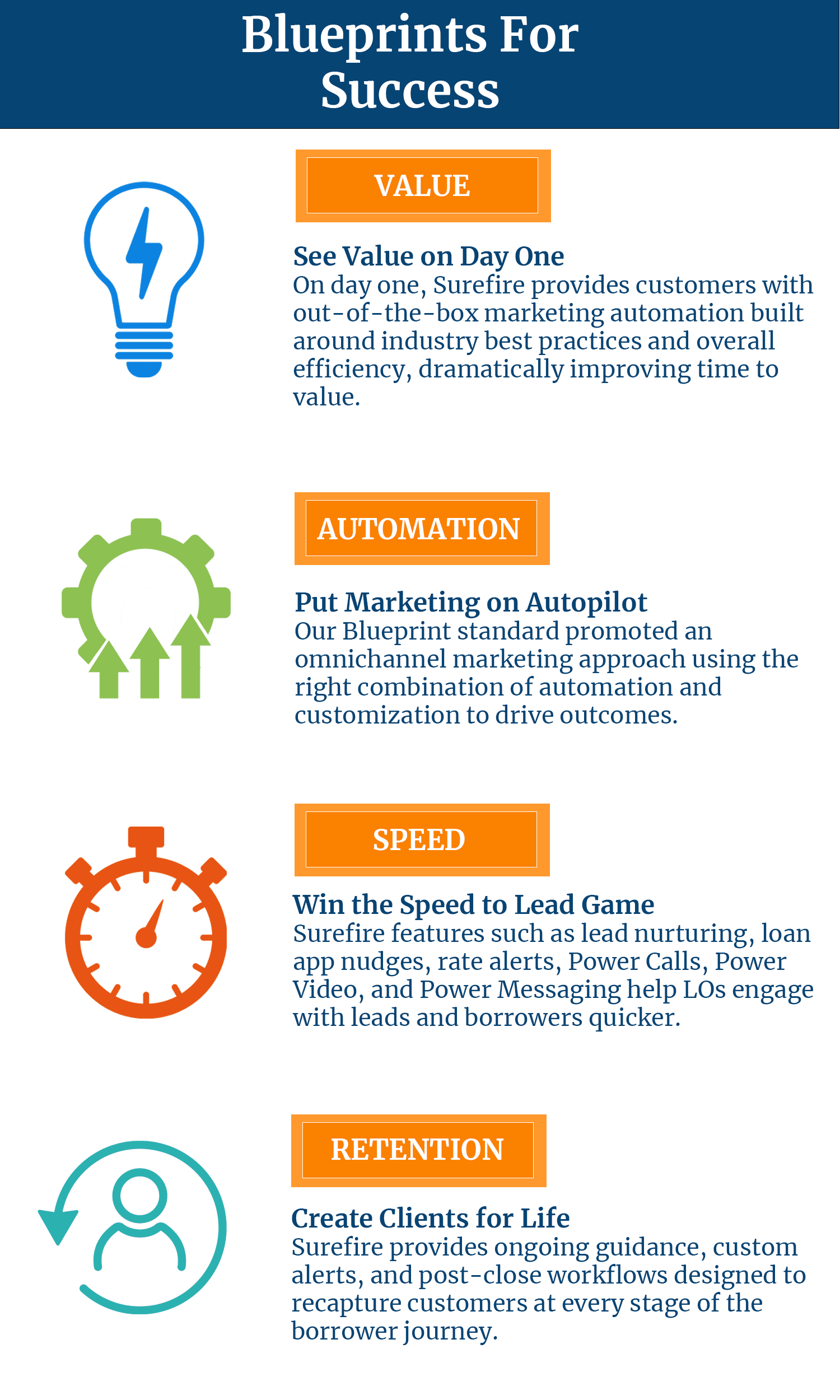 Brand Aware Content Library
Tools For Every Lender's Needs
Your Brand: Scaled Instantly
Surefire automatically takes the framework of your brand identity and applies it dynamically to our marketing library. That means you can seamlessly include Surefire content with your own in-house content and LO-generated content and project a cohesive and impressive brand story to the market. 
Scale is the key. All aspects of the Surefire allow both centralized marketing control and LO/AE control of their messaging using a series of organizational and individual permissions. Surefire also allows different rules for your Distributed Retail, Consumer Direct, and Wholesale divisions in the same system. It has never been easier to manage your image while empowering your staff to develop critical relationships with borrowers than with Surefire. 
Massive Mortgage Content Library
Out of the box, on the first day, you get immediate access to 1,000+ compliance-ready content pieces with the expertise to guide you in your initial selections through our Blueprints for Success. With Surefire, your brand is backed with a multi-million dollar marketing investment every year.
Your branding, outreach, engagement and education tools never get stale with Surefire. Our team of in-house experts constantly refresh your content library with original mailers and social messaging to timely content based on market news, Surefire fills your library with new award-winning content every single month.
Compete with the National Brands
Surefire Features
Marketing and Content
Centralized Marketing and LO-led marketing supported
Award winning creative library 1,000+ pieces
Omni-channel Marketing Automation
Text Message Marketing
Lead Generation Forms
Dynamic and In-Process Video
Interactive Calculators
On-Demand Print Services
Closing Gifts
Flyers
Sales and Loan Officer Focus
Opportunity Alerts
Outbound Calling with Power Calls
Single Property Sites
Open House Intelligence
No-Contact QR codes for Open Houses
Referral Partner Workflows and Portal
Pulse Reports delivered automatically
LO Custom Views and Pipeline
Automatic Task Management
Consumer Direct
Lead Routing (Round Robin, Shark Tank)
Outbound Calling through Power Calls
Centralized marketing and brand management
Automated lead nurture, in-process communications, and post-close campaigns for DTC
Wholesale Lending
Full support for AEs B2B communications
Company contact types to model Brokers
Easy rate sheet distribution
1:1 instant send emails
Management
Content Approval Manager
Configurable Roles and Permissions
Reporting
Dashboards
Multi-level corporate structure including DBAs
Deduplication (progressive)
Feature manager and LO Pay options
Tech Stack
LOS Integration to all major providers (Encompass, Calyx, LendingPad, LendingQB, OpenClose, etc.)
POS Integrations to all major providers (SimpleNexus, Blend, Floify, etc.)
Pricing Engine including Optimal Blue
Sales Tools such as MortgageCoach, MBS Highway, MonitorBase and Sales Boomerang
Native Power Video and Bomb Bomb integration
Social Media
Zapier
Open API
Compliance
Full content compliance management system
RESPA, TCPA, CCPA ready
Audit ready reporting
Audit assistance services
Common Questions
Does Surefire have video capability?
Yes. Surefire's Power Video platform allows mortgage lenders to record and send personalized videos through Surefire CRM.
Can Surefire pinpoint borrowers ready to be contacted?
Yes. Rate alerts and integrations with different POS, LOS, PPE, and API vendors Surefire can trigger communications with your prospective borrowers when they are ready to take the next step on their borrower journey.
Can Surefire send Text Messages?
Surefire is capable of sending automated and tailored text messages that add a human touch to LO outreach. These messages can include links, videos, and full compliance disclaimers as well as automatic opt-in confirmation.
Does Surefire work with other CRM systems like Salesforce?
Does Surefire Integrate with my LOS / POS / Pricing Engine?
How do I learn more about Surefire Pricing?
What are Single Property Websites?
Does Surefire support Single Property Websites?
MORTGAGE MARKETING UNIVERSITY
Free Ebook
Get instant access to tried-and-true mortgage marketing strategies and guides with Mortgage Marketing University.
SEE YOURSELF IN SUREFIRE
Custom Look Book
See how Surefire effortlessly develops content tailored to your brand.  Sign up for a free look book today.
SUREFIRE CRM
Get the Demo
You have what it takes to be a top mortgage lender and Surefire has what it takes to get you there. Learn How!